Recent Posts

Recent Comments

Archives

Categories

Meta
Here is part of my Proview.se installation to log some temperature and humidity values in our factory.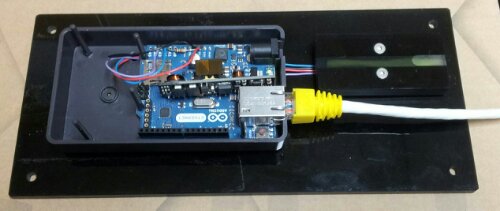 The loggers are built on Arduino Ethernet with PoE and runs ModbusTCP (look for "Mudbus" on Github ) and the sensors are SHT75 from Sensirion. The communication protocol to the sensor is https://github.com/siamect/arduino-sht75-sensor-and-modbus-tcp Most of the code comes from this project https://github.com/practicalarduino/SHT1x
We have expanded the number of loggers from 5 to 15 without any problems.
It is important to have the sensor far away from the box because the PoE converter is generating some heat. The unit is mounted with the ethernet cable coming from below so that the sensor is the lowest point. The material is acrylic. the box is a standard Arduino box purchased from RS-Components.
The communication between the sensor and the Arduino is digital. The reason to why the signals go to the Ax pins is because they are closer to the pins with the power and ground. The Ax pins can be configured either as digital signals as in this case  or analog inputs.
The "Air-Card" in the USB port of the computer is sending SMS when things goes wrong. I use sms server tools3 for that. Proview is configured to execute a script that creates an sms file for each user.
The ZyXel switches provide Power over Ethernet. Only 4 of the ports are PoE capable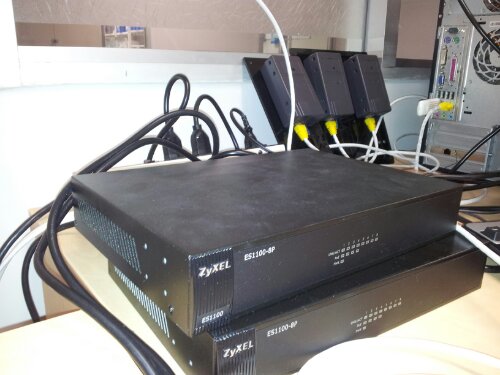 And no… it is not dust on the switches…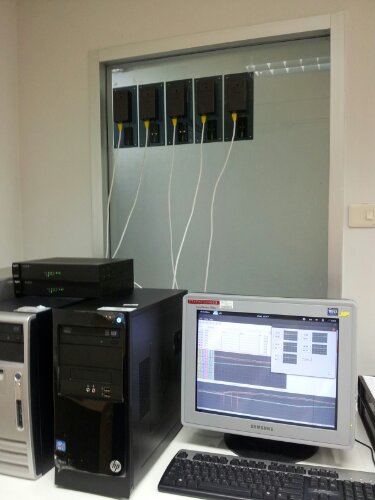 2 Responses to "Temperature and Humidity logging"